Introduction of facilities
Introduction of facilities

In-facility map ~ plan view ~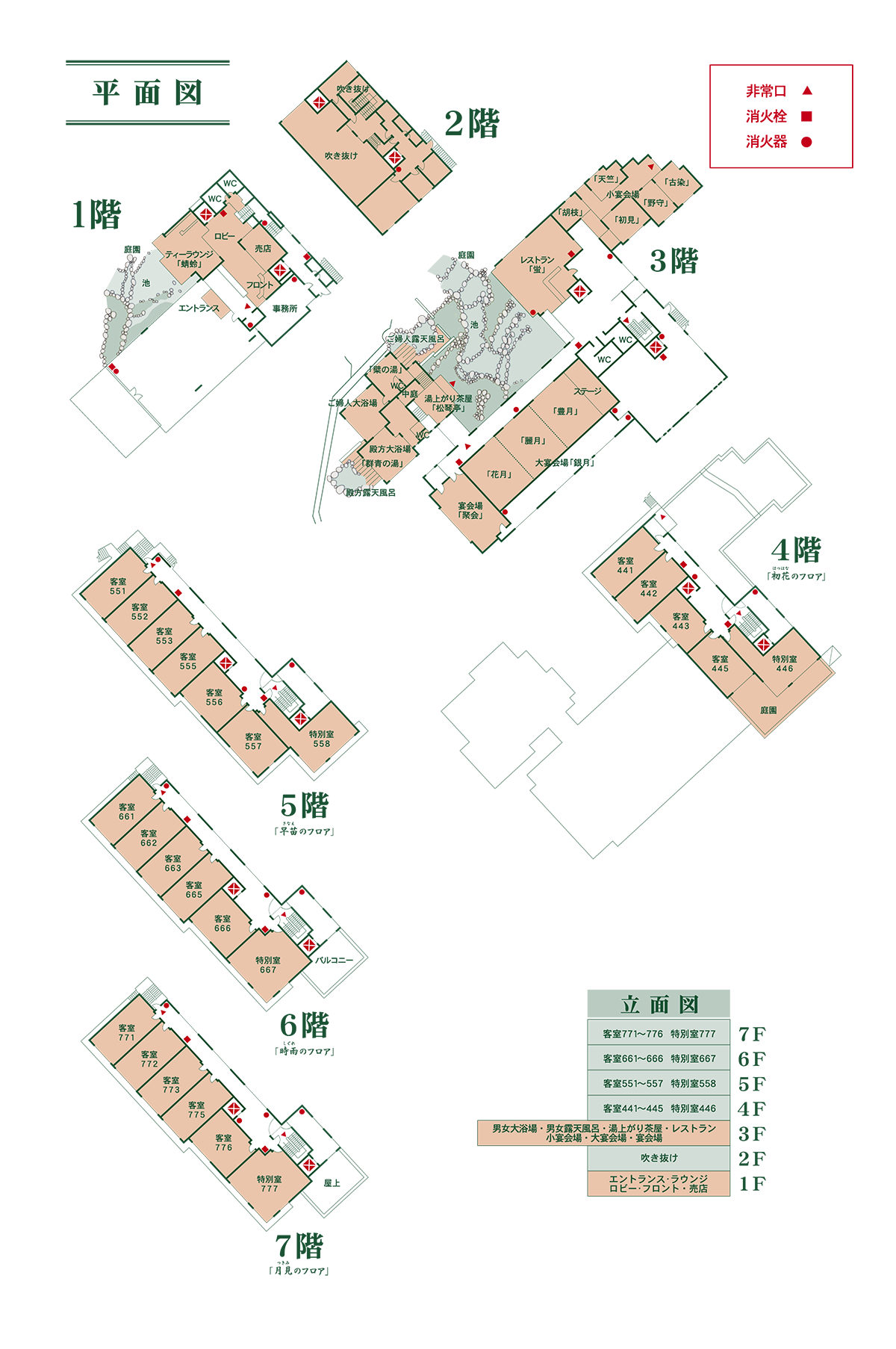 Introduction of facilities
◆Grand Ballroom "Silver Moon"

A large banquet hall with a stage.You can use it as three banquet halls with dividers.

◆Small ballroom

Five small banquet halls set up reminiscent of the restaurant.
You can use it widely as entertainment at work, private room venue at family.

◆Entrance

It is a purely Japanese style that takes off the shoes at the entrance and enters.
All within the facility is wearing inside, so it is safe even with small children.

◆courtyard

The courtyard with waterfall is the symbolic presence of the hotel.
Season of fresh green, season of autumn leaves burned, wrapped in a scenery like Japan
Please enjoy the hot spring accommodation.

◆Restaurant "firefly"

Since the seats are surrounded by partitions, you can eat meals in a single room sense.
Enjoy an elegant moment while viewing the courtyard at breakfast.

◆Tea Lounge "Dragonfly(Beat it)"

In the lounge which creates a different atmosphere each day and night, it is named after the season at check-in
We have prepared the service.

◆Yueda "Matsunokotei(Scholarship)"

A resting place in front of the entrance of the bath.We have lemon water available
Relax and unwind while watching the courtyard that attracts various colors every season.
Number of rooms

24 total rooms:Japanese Style Room 18 rooms, Japanese Japanese Twin Room

Standard room facilities

All rooms bath toilet / all rooms shower / all rooms Air conditioning / television / satellite TV / empty refrigerator

Amenities

Hand towel / toothbrush·Toothpaste / bath towel / shampoo / body soap / yukata robe / duvet / shaving / shower toilet / shower cap / cotton swab / comb·brush

Facility content

Banquet room / lounge

Service & Leisure (including arrangement)

Room service / Massage(Toll) Shogi(Toll) / Go(Toll) Mahjong(Toll)

Credit cards available locally

JTB Card / Diners / Visa / JCB / UC / Mitsubishi UFJ Nicos(MUFG/DC/UFJ/NICOS) / Amex / Cedyna / Master / other cards

Standard check-in time

15:00

Standard checkout time

10:00

Onsen tax

Hotspring tax adult 150 yen (child free (0 years old to 12 years old)) separately.

Cancellation provisions

4 days ago ~ 2 days ago:30% of room charge
1 day ago:50% of the room charge
On the day of arrival:70% of the accommodation fee
Cancellation without any contact:100% of the accommodation fee
※If there is a cancellation rule setting for each accommodation plan, that will be given priority.
Hot Springs

Naruko Onsen, (Naruko)(Natural hot spring 100%) Hot Spring Baskdown ※It does not include artificial hot springs

Open Air Bath

Yes (There are also men and women (including time change) · Charges are not allowed)

Number of baths

"Outdoor bath] Man: 1 Female: 1 Mixed Bath: 0
[Inner bath] Man: 1 Female: 1 Mixed Bath: 0
[sauna] Man: 0 Female: 0 Mixed Bath: 0